Major Announcement About the Kelley Blue Book Instant Cash Offer Program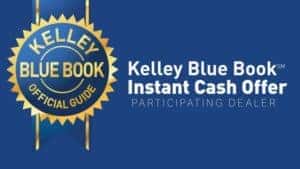 How do I know your CASH OFFER is a fair price? That is the main question on your mind right? At I Buy Luxury Cars we believe our customers are smart. They do their homework, weigh the pros and cons of selling their car to us and they make educated decisions. So providing our customers with confidence is key for us. We want our customers to know that we don't just pull our CASH OFFERS out of thin air; we base our CASH OFFERS on dynamic market data. One of the places that we get our market data is from the same place you do, "Kelley Blue Book". That is why we are proud to announce our official participation in "Kelley Blue Book's Instant Cash Offer Program"!
As a Participating Dealer you can now get a "Kelley Blue Book Instant Cash Offer" for your vehicle in just minutes from I Buy Luxury Cars! The way it works is simple: First, tell us about your car by submitting information on our website and we will respond with your "Instant Cash Offer" via email. Second, if you accept, we'll schedule a time to come verify your vehicle's condition at your home or office, or you can stop by one of our offices with your car. Finally, you can use the "Instant Cash Offer" price to sell us your car.
Now you can save time haggling with your dealer over the value of your trade by selling it to I Buy Luxury Cars for the KBB Instant Cash Offer price before you go shopping for your next new car! Everyone knows Cash Is King. So, after you have cash in hand from your previous car sale to us, you'll be in a better bargaining position and can make a great deal on the new car you desire.
Not buying a new car you say? Simply want to sell yours? Save yourself a mess of headaches and research trying to sell your car "Private Party" and sell your car to I Buy Luxury Cars today for the Kelley Blue Book Instant Cash Offer Price. Rest assured that your KBB ICO price is determined by Kelley's 90+ years of experience. Submit your car for a Free Kelley Blue Book Instant Cash Offer today.
A bit about Kelley Blue Book…
Per a recent Harris Poll from September 2016, Kelley Blue Book www.kbb.com, was awarded "Online Auto Shopping Brand of the Year". In addition, Kelley Blue Book was named Most Trusted/Most Loved Brand and Most Recognized Brand among participants in their 2016 study. Founded in 1926, Kelley Blue Book has long been recognized as "The Trusted Resource" for vehicle valuation. According to Kelley Blue Book's parent company's website, Cox Automotive Kelley Blue Book has over 21,700,000 unique visitors monthly to their website and 66% of all car buyers use www.kbb.com at some point during their purchase cycle. So if that many people also Trust Kelley Blue Book's values, you can too!
For a link to the Harris Poll press release on Kelley Blue Book's website click here